To be presented on July 7th, 2023.
Category 1 Manx Music – Fraser McKenna, 13, QEII High School
Fraser has been dancing with Skeddan Jiarg from a young age
He also plays piano and cello with youth groups Bree and Scran and has won numerous first prizes as a soloist with at the Manx Folk awards and the Guild
He was awarded the Manx Folk Awards Folktastic prize in 2022
Fraser has represented the IoM internationally as a dancer, performing in front of large audiences at various Celtic festivals including the Lorient Interceltic festival
Category 2a Manx Language – Elisabeth (known as Lizzie) Radcliffe, aged 16, QEII High School
Lizzie is preparing to sit her Manx GCSE. Learning a language like Manx to this level is challenging, but Lizzie's talent for linguistics and hard work have helped her and she is expected to do very well.
Lizzie is from a farming family, and only a few generations ago, Manx would have been the first language spoken in her family. Her English peppered with dialect words and spoken with a good Manx accent bears witness to this linguistic heritage.
Category 2b Award for Commitment to Manx Language – Scarlett Radcliffe, aged 10, Anagh Coar School
Scarlett has shown real commitment to Manx this year and received a 2nd place in the category for Manx reading at the Manx Folk Awards
Her enthusiasm is evident in her lessons where she helps and encourages others with their learning and also takes the weekly handouts from the lesson home to teach her family.
Category 3 Arts and Crafts – Aalin Grace (known as Grace) Foster, aged 17, Castle Rushen High School
Grace is studying Textiles at A Level after achieving A* at GCSE
She has always produced work based on the Isle of Man, drawing on its natural beauty. The piece 'Mooinjer veggey' (on display here today) is inspired by the Fairy Glen with its flora and fauna and if you look carefully you might just spot the Fairy cottage nestled amongst their woodland home.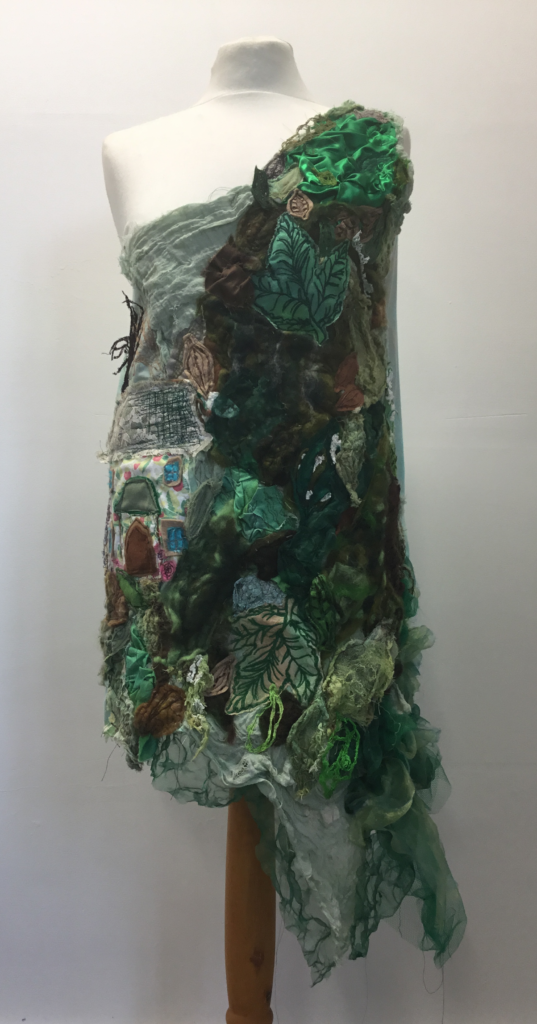 Category 4a Manx Culture – Joel Kneen, aged 16, University College IoM
Joel has worked behind the scenes as a sound and lighting technician and stagehand for many productions at Peel Centenary Centre and the Gaiety Theatre and his work in the wings is an invaluable part of Manx cultural life.
He volunteers to support musicians at QEII Wind Band and plays in the Youth Orchestra
Joel also teaches dance at the Mad Hatter's Dance School and supports dancers around the Island.
His drive to support, teach and facilitate music, theatre and dance, places him well to be a future lynchpin of the Manx cultural landscape.
Category 4c Manx Culutre Group – Yn Cheshaght Ghailckagh Youth Committie, aged 11-15, various schools
The youth group of Yn Cheshaght Ghailckagh (the Manx Language Youth Group) was formed just under two years ago, to co-ordinate opportunities for young Manx speakers outside of a school setting
From the very first meeting the young members were enthusiastic, not only in their own use of Manx but as advocates for the language and as active participants of the society
The group has participated in several events, raised money for Bunscoill Ghaelgagh, begun writing a Manx language Joke book to promote the fun use of Manx as well as work on their translating skills and were featured in the New York Times after being amazing advocates for the language with visiting journalists
We have two members of the group, Meri Wade and Matilda Watson, here today to receive their award on behalf of the group
Category 5 Manx Community Award – Luke and Cameron Strickett-Morling, aged 21 and 18, IoM Phab
Luke and Cameron have both been hugely supportive ambassadors for the ethos for Phab, an inclusive sheltered youth club run by DESCs Youth service. Volunteering from the age of 10, and they both have a massive positive impact on members
They have learned Makaton, a unique language programme that uses symbols, signs and speech to enable people to communicate
Their fun infectious sport loving personalities have enabled members to gain a life-long love for sports and to be able to participate in activities.
Both have a compassionate and supportive nature to allow members to feel comfortable to experience new things. Pushing members out of their comfort zones just enough, whilst scaffolding their social education and experiences