Dear Members and Friends,
Attached is the 17th newsletter and a spreadsheet showing the 76 image additions to the website at archibaldknoxforum.com since October.
We will reschedule the AGM as soon as possible after the lockdown has been lifted on the Isle of Man.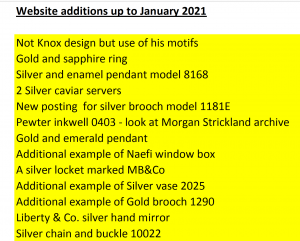 If you wish to take out membership or renew your subscription the membership fees for 2021 are the same as previous years:
£25 pa for single membership
£35 pa for family membership
£250 for single life membership
£350 for family life membership
These can be paid by cheque, bank transfer or Paypal and the details can be found on the Home page of the website at archibaldknoxforum.com under Membership.
If you wish to sponsor a website page it is £100pa or £500 in perpetuity.
If any of you have ideas for subjects for talks, or places of Knox interest you wish to visit, we would be interested in hearing from you.
Thank you for your continued support and encouragement.
Chris, Mary, Julie, David and Derek.