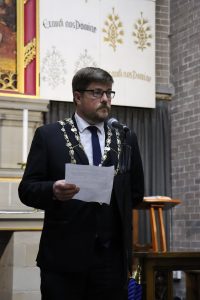 A service of Remembrance took place in the town of Ramsey to mark the 111th anniversary of the loss of the Isle of Man Steam Packet Company's vessel Ellan Vannin on the 3rd December, 1909, in the waters of Liverpool bay.
Departing Ramsey, the Ellan Vannin sailed towards the English port, but less than a mile from the bar lightship the vessel was hit by a tremendous storm and sank with the loss of all lives. A few bodies were recovered but many were never found, with debris, including livestock, washed ashore.
This was the worst loss in the history of the Isle of Man Steam Packet Company, with the tragedy still etched into the minds of surviving descendants.
The short service was organised by Ramsey Town Commissioners and although originally scheduled to take place at the Ellan Vannin memorial on West Quay, the event was diverted into Our Lady Star of the Sea & St Maughold Church nearby due to the poor weather conditions.
It was an appropriate choice as two stone masons working on the rebuilding of the church to the design of the celebrated Sir Giles Gilbert Scott, also perished on the final journey of the Ellan Vannin.
Those attending the service were welcomed by the Chairman of Ramsey Town Commissioners, Andy Cowie, followed with prayers led by Father Brian O'Mahoney and a one minute's silence.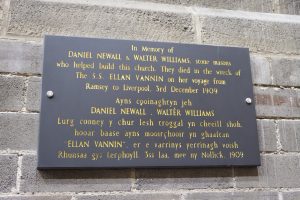 Also attending were representatives from the Isle of Man Steam Packet Company, the Royal National Lifeboat Institution and the local coastguard, with a particularly poignant mo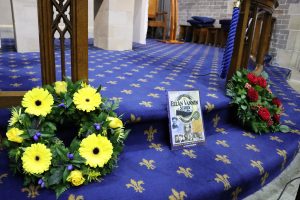 ment being the reading of the names of thirty five crew and passengers who lost their lives, and a time of reflection.
Wreaths were laid by representatives of both the Isle of Man Steam Packet Company and Ramsey Town Commissioners before the current Manx Bard, Zoë Cannell (who also has family connectio
ns to the tragedy) read an original, self-composed poem entitled Li'l Daisy – written especially for the occasion. In later years the Ellan Vannin was looked upon as the mascot of the fleet and became known by Manx sailors as Li'l Daisy.
It was also announced that Harry Edmondson (who played a pivotal role in the establishment of these services) died on the 14th November, 2020, and appropriately was laid to rest in his home town of Liverpool on the 3rd December.
Closing prayers were conducted by Father Brian O'Mahoney.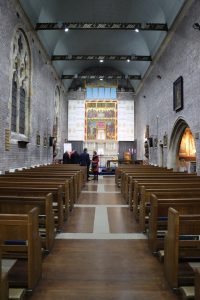 An extensive account of the event can be found in The Ellan Vannin Story by Richard Stafford.
Valerie Caine
© December 2020