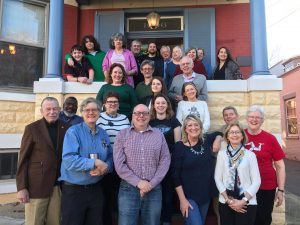 The Washington DC Area Manx Society would like to invite you to join us in our second Annual Manxgiving Celebration. We'd prefer to do this in a local pub but this year it's virtual so we thought it would be fun to invite people from outside our Society to join us in celebration.
Some of you are too far from a local society so we'd like to invite you to be a part of ours for an hour. Some of you are in NAMA as well as a local society so please feel free to share the link with your members.
Feel free to share this invitation with any Manx folk you feel would enjoy it.
Introduction: Name, location and Manx connection. Please keep it brief, especially if there are a lot of us!
Quiz: Three rounds of 10 questions with three themes: Contemporary, Celtic & Manx. Have a paper and pen ready. Honor system for marking!
Donation Sharing: Everyone participating in Manxsgiving by making a donation should briefly explain why that cause is important to you. If you are donating an item – feel free to show it onscreen.
As this is a celebration we recommend that you have a jough (drink) on the go so we can all toast our Manxness and the spirit of thanksgiving. Bill Cassidy will teach us all a useful toast in Manx in readiness for the Holiday Season.
Please join us! And please RSVP! to kelly @ mustgoto.com (without those spaces around @)
Message us at kelly @ mustgoto.com if you are interested in joining the fun and we'll send you the Zoom link!