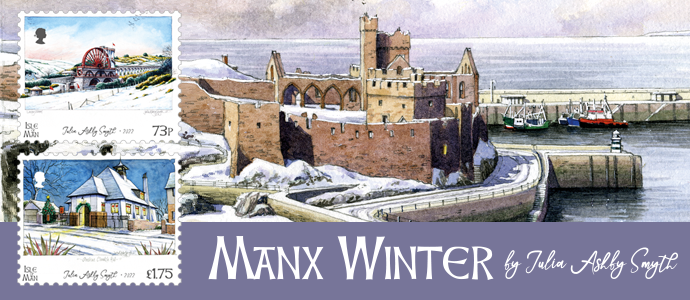 Date: 8th November 2022
Isle of Man Post Office is delighted our 2022 Christmas stamp issue depicting Manx winter scenes illustrated by local artist Julia Ashby-Smyth. This issue represents the final Isle of Man stamps to receive the royal approval of Her Majesty Queen Elizabeth II, and is therefore the last use of her effigy upon a Manx stamp.
The Isle of Man Post Office's relationship with Her Majesty Queen Elizabeth II began when the Island gained postal independence on 5th July 1973, since then each stamp released has received the royal approval of Her Majesty, displaying her royal cypher or effigy. This collection is the final issue to be approved and to feature the cypher or effigy of Queen Elizabeth II.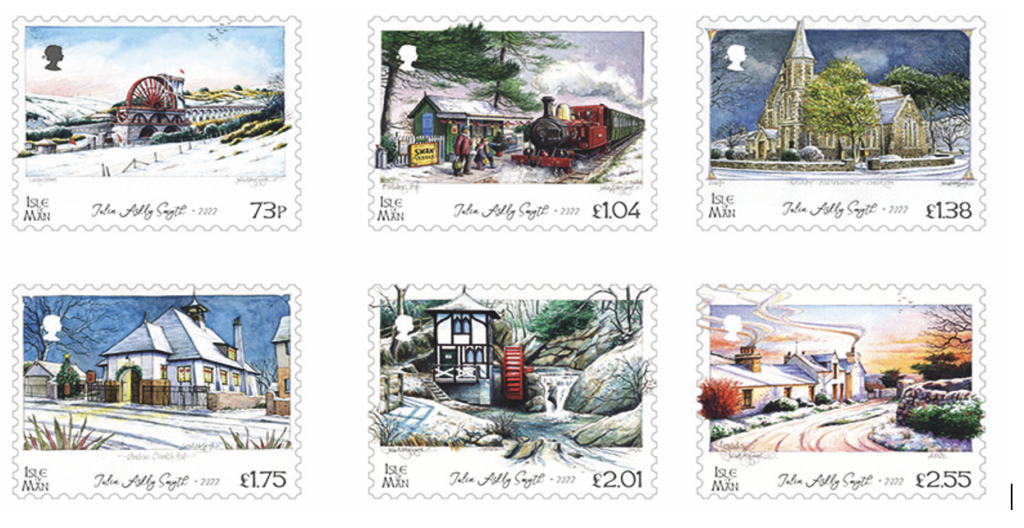 This collection of Manx winter scenes has been beautifully illustrated by local artist Julia Ashby-Smyth, a freelance illustrator whose much-loved works can be sighted across our Island, particularly throughout book illustrations and local branding.
Julia states "I love detail, much of my work being quite intricate, telling stories layer upon layer, throughout an image; my avid interest in the Manx landscape, its folklore, mythology and symbolism often permeating through to paper."
Isle of Man Stamps and Coins General Manager, Maxine Cannon said: "For me and a great number of colleagues, both past and present, there could have been few jobs where every day of our working life we were mindful of our deep and long lasting association with Queen Elizabeth II. This set of stamps by talented local artist Julia Ashby-Smyth represents the final collection of stamps to receive Her Majesty's approval, making them a piece of our Island's postal history. Julia's seasonal artworks are a beautiful depiction of our Island throughout the winter months and make for the perfect festive issue."
Artist Julia Ashby-Smyth said "I am delighted and honoured that these watercolours have been chosen for the new 'winter' issue. Inspired by captured moments, most often whilst out walking, bundled up in layers of wool, the cold air nipping at my nose, these scenes bring back many happy memories. The Agneash image, for instance, was painted after a very happy day sledging down snowy slopes. I walked home through an entirely golden pink landscape, even the seagulls were pink. Winter light is exquisite, creating spectacular colours, deeply hued shadows and extraordinarily beautiful skies."
Issued on 2nd November 2022, the collection is available as a Stamp Set, Self-Adhesive Set, Sheet Set, Self-Adhesive Sheet Set, Presentation Pack, First Day Cover, Self-Adhesive First Day Cover and a limited edition special cover in honour of the Her Majesty Queen Elizabeth II. Visit iompost.com/ManxWinter to find detailed information about each product. All the products are available for purchase with free delivery across the world and can be placed through our website, by postal order, or telephone (+44 1624 698430).
Manx Winter by Julia Ashby-Smyth is the final stamp issue released by the Isle of Man Post Office to have received royal approval from Her Majesty Queen Elizabeth II. This collection of stamps are the last to be released bearing the effigy of Queen Elizabeth II.
– Ends –
Technical Details
Text: Julia Ashby-Smyth
Design: Isle of Man Advertising & PR
Sheet Size: 155mm x 155mm
Format: Sheets of 20
Process: Offset lithography
Colours: 4
Paper: 413 True White Litho FSC 110
Perforations: 11.5 per 2cm
Stamp Size: 31mm x 25.96mm
Printer: bpost
Date of Issue: 2nd November 2022
Limited Editions: Presentation Pack 1100; First Day Cover 1500
Notes to editor
Keep up-to-date with the latest news on Twitter: @IOMstampscoins
Please visit our Media Centre where you can freely download copy, latest news, copyright free and high resolution images http://www.iompost.com/media-centre/login/
Manx Winter by Julia Ashby-Smyth is the 2022 Christmas stamp issue by the Isle of Man Post Office.
Isle of Man Post Office's one-stop guide to all things festive can be found online at https://www.iompost.com/christmas2022
Locations featured on the stamps
Laxey Wheel
Ballabeg Stop
Sulby Methodist Church
Onchan Church Hall
Groudle
Agneash
Julia Ashby-Smyth – Artist
Julia is a freelance illustrator living and working amongst the trees on the edge of a mossy Manx Glen. Predominantly her commissioned work is book illustrations: from Children's books and fairy tales to wildlife, fauna and historical buildings. Julia also creates branding and labelling design. Graphite and ink are her favourite mediums, but she is equally happy working in watercolour and coloured pencils."
Product Descriptions
| | |
| --- | --- |
| Set | One of each stamp. Available in Mint condition (not been used for postage and should be in pristine condition having full gum and perfect perforations) or cancelled to order (CTO) (Mint stamps that have been cancelled while still in sheet format prior to being separated into individual or blocks of stamps.) |
| Sheet Set | A complete set of the stamps whilst still in their sheet format. The number of sheets in a set and the number of stamps per sheet will vary from issue to issue. |
| First Day Cover | A specially designed envelope on which a full set of stamps, is affixed and cancelled on the first day of issue. They usually feature a pictorial postmark. |
| Presentation Pack | Packs containing a set of stamps inserted within a clear acetate mounted black card. The outer card covers contain details of the stamps and a short narrative of the issue subject. |
| Final Approved Special Cover | A special First Day Cover individually numbered and limited to 1,000 examples complete with a certificate of authenticity. This product contains each of the final approved stamps by Her Majesty Queen Elizabeth II and is specially postmarked on 2nd November 2022, the issue date, at Windsor Road Post Office, Isle of Man. |
The full range of products from this collection can be viewed at iompost.com/ManxWinter
Every effort has been made to trace or contact all copyright holders. Isle of Man Post Office will be pleased to make good any omissions or rectify any mistakes brought to their attention at the earliest opportunity.
Issued by Lacey Cullen, Marketing Manager, Isle of Man Post Office
Tel: 01624 698587 Email: lacey.cullen@iompost.com
| | |
| --- | --- |
| Sales & MarketingPhone: +44 (0)1624 698 437 Email – Maxine Cannonmaxine.cannon@iompost.com | Customer ServicesOffice hours: Monday to Friday 8.30am to 5pm GMTPhone: +44 (0)1624 698 430 Fax: +44 (0)1624 698434Email: stamps@iompost.comwww.iomstamps.com |