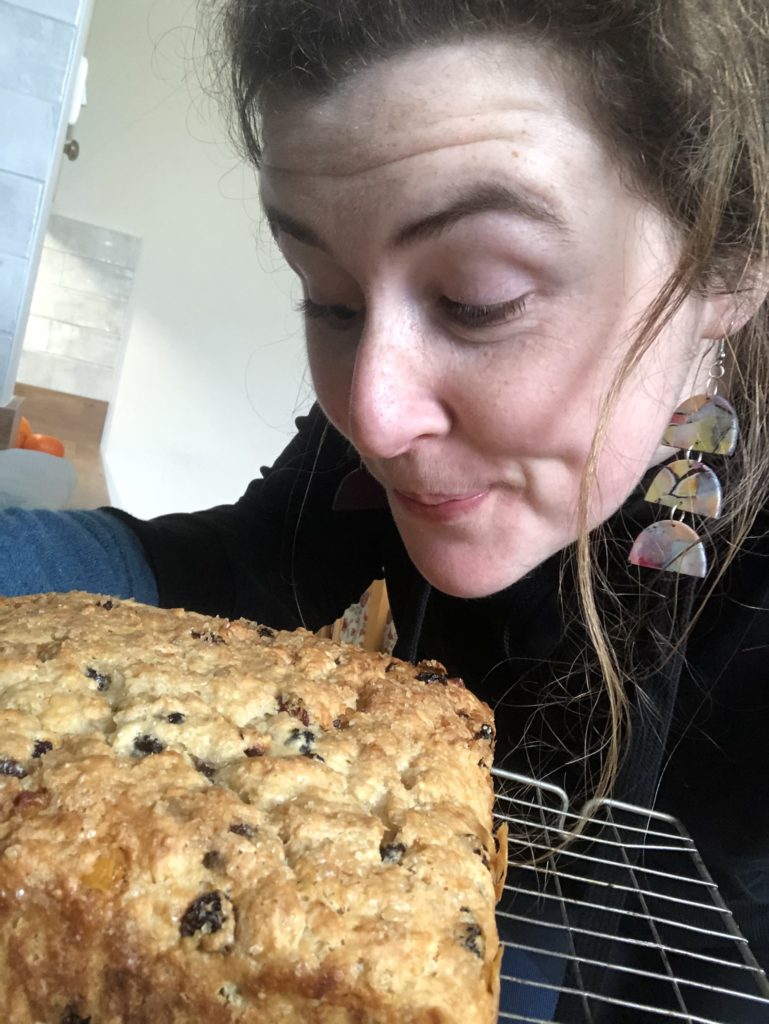 Laa mie ooilley! / Good day everyone, I'm really looking forward to baking with you all on Zoom, on Saturday 2nd July!  Email: kelly(at)mustgoto.com for the link.
Below, you can find recipes for not one, but TWO bonnags! Why two? Well… for anyone who hasn't made bonnag before, it can be quite different from household to household. Bonnag is one of most traditional Manx foods, and I'd describe it as being somewhere in between a soda bread and cake; some bonnags are more like bread, and some are more like cake! You can make them with, or without dried fruit. 
Each year the 'World Bonnag Championships' are held in Dalby, near Niarbyl, on the west coast of the Island, and each year there are different champions – individual, and commercial (for cafés etc). I have never entered the championships, so I'm afraid you aren't being taught by a champion bonnag maker(!)… but I'm a teacher and I can cook bonnag, so stick with me and I think we'll be just fine!  In our Zoom session, we will make two different bonnags one after the other. You don't have to make both – you can choose to join us for the whole session and just make your preferred bonnag, or you can choose to make both. Please bear in mind that the second bonnag takes a while to cook (1.5 hours cooking time), so if you're short on time, just make the first one (30 minutes cooking time).  We'll have a five minute 'breather' in between making each bonnag, as a comfort break / chance to chat / chance to quickly do a little washing up in our a bake-a-thon! 
Health & Safety Announcement: Don't burn yourselves! 

The Class I'll weigh out my ingredients in the Zoom session itself, as I teach you, and you can do the same; just have all the ingredients you need ready to go at the start of the session, along with bowls and utensils. As we cook by weight on the island, rather than by volume as you of in the States, Kelly has attempted to translate the quantities into units of measurement you're familiar with.  Bonnag #1: 'Julie's bonnag' Info: This recipe was given to me by Julie Matthews, head of the Bunscoill Ghaelgagh – the Manx Gaelic medium primary (elementary) school in St. John's. It's quite a large bonnag – it will keep you going for a while! – but it's lovely and moist, and will be just fine stored in a tin for several days. It contains dried fruit and buttermilk, and I think has a really traditional flavour. It's sweet, but more soda bread-like than bonnag number 2, which is definitely more cake-y. If you are vegan, or want to make a vegan version of this one, you can do! I will put alternatives in brackets. You can also make a plain version of this if you prefer. See below.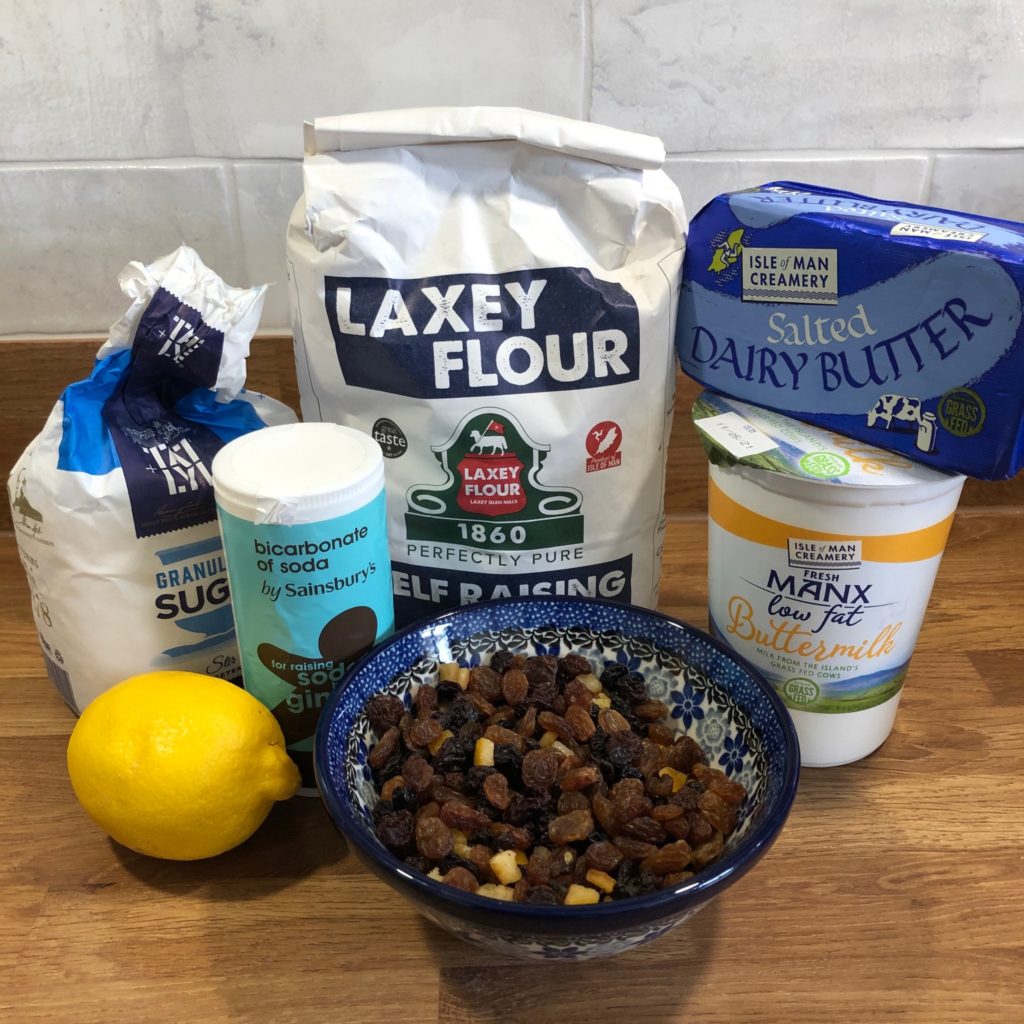 You will need: 
Weighing scales – or cup and spoon measures
Mixing bowl
Wooden spoon for mixing
Square baking tin (20cm x 20cm, 7cm deep), lined with greaseproof paper (do this before we start on Zoom!) 8″ x 8" x 2.5″
A clean tea towel (for laying over the bonnag)
Oven, set to about 180 celsius/350 fahrenheit
And:
455g self-raising flour – 1 lb or 3 2/3 cups
115g butter (or vegan butter) (or margarine, if you prefer a lighter bake) 4 ounces or 1/2 cup
55g sugar (granulated) 2 ounces or 1/4 cup
170g dried mixed fruit 6 ounces or 3/4 cup – Dried mixed fruit here means sultanas, raisins, currants (not really found in the US). Here's a link so you can see what it looks like: https://www.britishcornershop.co.uk/marks-and-spencer-mixed-fruit. California raisins are probably the nearest equivalent. If you like candied fruit that might also work.
1tsp bicarbonate of soda About 2/3 of a US teaspoon
1tsp cream of tartar About 2/3 of a US teaspoon
500ml of buttermilk (*or vegan buttermilk – see below!) 17 fluid ounces or 2 cups and a splash! (2.11 cups to be exact)
Demerara sugar (optional) Brown Sugar
* to make vegan buttermilk, use 500ml of soy/almond milk, 17 fluid ounces or 2 cups and a splash! (2.11 cups to be exact) mixed with 2 tbsp US 2.5 tablespoons of apple cider vinegar OR lemon juice. I'll talk you through the method on Zoom (it's VERY simple – you won't get lost!). No fruit? Do this…If you want to make a plain, non-sweet bonnag (which is more like a soda bread) instead of fruit, then omit the dried mixed fruit and the sugar, and add 1 level teaspoon of salt About 2/3 of a US teaspoon to the mixture. Cooking time: around 30 minutes While this one cooks away, we'll start making the next bonnag… Bonnag #2: 'Jimmy's bonnag' My Mum got this recipe from a family friend (who sadly passed away a few years ago) called Jimmy. He ran a bakery in Peel for a long, long time, and this recipe was his. It's certainly more cake-like than soda-bread like, and very yummy. I hope that you love it as much as I do! Top tip: this bonnag freezes really well. You will need: US translations in BOLD
A decent amount of time – this one takes 1.5 hours to bake! Don't start this one if you need to go somewhere after the Zoom session!
Two 1 pound loaf tins loaf pans – lined
Weighing scales
Mixing bowl
Wooden spoon
Oven, set to 150c about 300F
And:
1 pound of self-raising flour self-rising flour
6 ounces of margarine (butter is lovely, it will give it a heavier texture, though) 1.5 Sticks of Butter
8 ounces of demerara sugar Brown Sugar 1 Heaped cup
1/2 pound of dried fruit 1 1/2 cups
2 teaspoons mixed spice (substitute either pumpkin pie spice or make your own cinnamon/allspice/nutmeg and/or mace/cloves/ginger powered blend) 1 Heaped Teaspoon
1/2 teaspoon of salt – Pinch
1/2 pint of milk and water – ratio 3 parts milk to 1 part water) 1 cup
Method: Again, I'll walk you through this in the Zoom session, but it's also very straightforward! Once we have created both bonnags, which should take around 1 hour from start to finish, we'll take a break while things bake.
Anyone who would like to join me later for a cappan dy hey – a cup of tea – over Zoom for half an hour or so can do so; we'd aim to reconvene at 8pm Manx time, which will have given our first bonnags a little chance to cool, ready for testing! I would LOVE to see images of your bonnags once baked, so please do have your cameras/phones ready to take a snap when they're created, and if you're happy to send them to me to put into a collage for Culture Vannin, that would be wonderful.
Baking a bonnag is one of '40 Manx Things' challenges for this year, which I'll tell you more about over Zoom. Looking forward to seeing you soon! Lesh my yeearreeyn share / With my best wishes,
Ruth