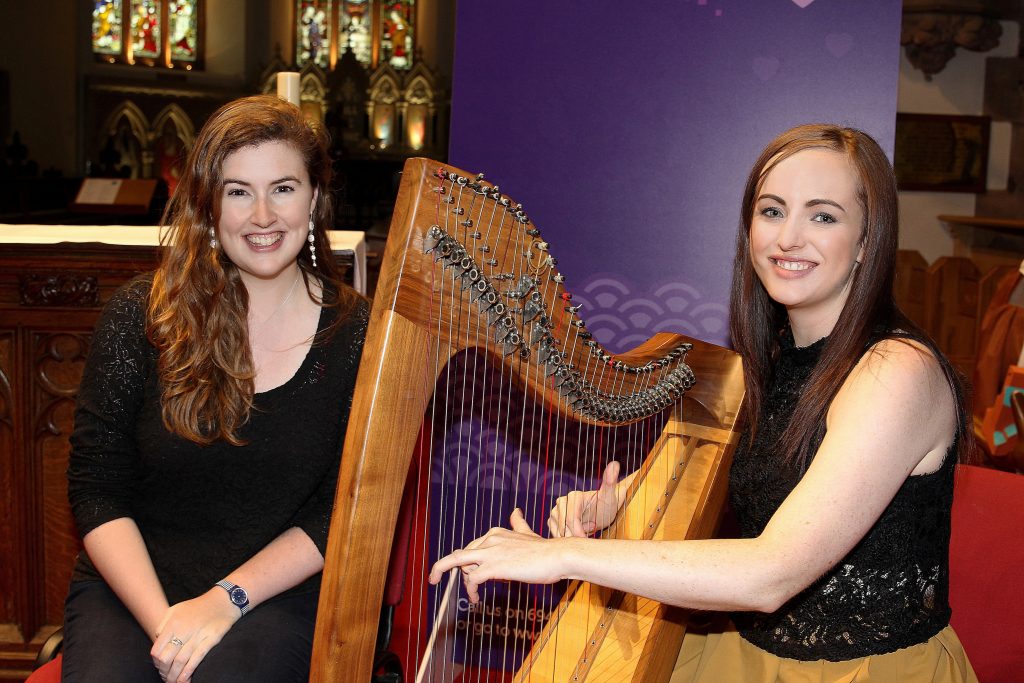 Manx Gaelic singer Ruth Keggin is delighted to be collaborating with acclaimed Scottish harpist Rachel Hair to crowdfund and record a new duo album celebrating the cultural and musical links between the Isle of Man and Scotland. The duo are thrilled to have been selected to be part of a 'crowdmatch' initiative between Creative Scotland and the organisation, Crowdfunder. They are up against 19 other creative projects to compete for matched-funding for their album, in a race against time! The Crowdfunder launched on Monday 22 March and the link is: https://www.crowdfunder.co.uk/rachelandruth. There's still time to support the duo, if you would like to pre-order an album.

The songs on Ruth and Rachel's album will be predominantly in the Manx language and will feature a blend of traditional, well-known repertoire, and contemporary compositions by Manx writers. These will complement instrumental sets specially chosen to represent the mutual passion and respect that both musicians have for each other's nations and cultures.
Rachel is widely regarded as one of the world's finest exponents of Scottish harp (clarsach) playing, and has released five critically acclaimed albums, published four harp books and has toured throughout Europe, the USA, Japan and New Zealand. She is also a world-renowned teacher. In turn, Ruth has released two critically-acclaimed solo albums in Manx, alongside an intergaelic album together with Scottish musician and broadcaster Mary Ann Kennedy and Irish sean-nós singer and musician Eoghan Ó Ceannabháin, as well as albums with her band a'Nish, with whom she was awarded the Trophée Loic Raison at the world-famous Festival Interceltique de Lorient. Ruth splits her time between a performing career and her role as Manx Language Development Officer for Culture Vannin, a role in which she works to support and promote the Manx language within the community as well as internationally. Manx Gaelic has seen an upsurge of interest in recent years and is one of the Island's success stories, both nationally and internationally.
Rachel and Ruth met some years ago through Rachel's work teaching Manx harp. Rachel's involvement in the islands musical community, along with her engagement to a local Manx musician, has seen her develop great passion for its music, leading her to be often referred to as an 'honourable Manxie.' In turn, Ruth has a strong connection to Scotland through family links, prior musical projects, and spending her childhood listening to Scottish Gaelic singers, inspiring her to sing in Manx.
As a new duo, Ruth and Rachel have already performed as part of Yn Chruinnaght Interceltic Festival on the Isle of Man and at the Edinburgh International Harp Festival.
Whilst the Covid-19 pandemic has cleared musicians' diaries of touring and live performances, it has meant Rachel and Ruth have finally been able to schedule in an album recording. The album will be recorded on the Isle of Man later this year and mixed and mastered in Scotland, providing much-needed employment for creatives in both nations.
The duo are grateful to have received some funding from the Isle of Man Arts Council to help them on their journey towards making the album a reality, but are thrilled at the prospect to engage with their audience through the Crowdfunder while having the chance to be awarded additional funds by Creative Scotland. Rachel and Ruth will use the funds raised to cover costs in recording, mixing, mastering and physical production of the album.
Supporters of the Crowdfunder will be able to pre-order digital and physical copies of the album ahead of its release date, and access other opportunities including one-to-one lessons with Rachel or Ruth, tune compositions, and house/zoom concerts.
"Rachel and I are grateful to the Isle of Man Arts Council and Creative Scotland for supporting us in our venture to create a duo album celebrating the links between Scotland and the Isle of Man. The fact that we can crowdfund and be in with the chance to receive extra funding from Creative Scotland means that we can finally put into reality our recording plans for the album we have been working towards."
PHOTO DOWNLOAD: https://www.dropbox.com/sh/cbke6e2saz96l4r/AAANUB_46LdaBa2nZfFjFy8na?dl=0
Photo credit: Mark Falconer