Wonders of Mann
A leisurely wander around the Isle of Man can often be a journey of self discovery, but some of the assorted curiosities and landmarks which flourish across the length and breadth of t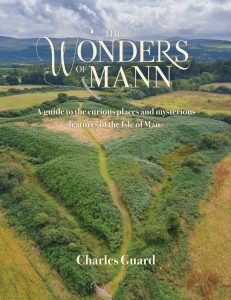 he Island often raise many questions.
Some of them may well be answered within the pages of a new publication entitled Wonders of Mann, which reveals more about a selection of both man-made and natural curiosities. Lavishly illustrated with stunning photography, the book has been compiled by Charles Guard who has brought together many of the curios which fascinate him upon his travels.
Complemented by a brief description of each subject and, where applicable, a little of its history, this glossy paperback may well reveal unknown aspects of the Island and hopefully encourage you to seek out some of these inspiring novelties.
Available from Island bookshops or from www.culturevannin.im priced £12
Valerie Caine
© January 2017
(Courtesy of Manx Tails)